Welcome to the site of Breesfalt Deerhounds.
We have been involved in showing / breeding Deerhounds since 1986 and after years of thinking about it have at long last started to put this site together. I hope you find it of interest.
I have had dogs all my life, including Pyrenean Mountain dogs, German Shepherds and a German Shorthaired Pointer. I was having some fun successfully showing my German Shorthaired Pointer, Bree, in obedience and decided it would be nice to start showing another breed, after much deliberation settled on a Deerhound. We visited Miss Hartley and her Rotherwood Deerhounds at Fletton Towers and were hooked. She was a lovely lady and we were lucky enough to visit her a few times over the years, enjoying tea and internesting conversations every time. Miss Hartley put us in contact with Val Lorraine and I obtained my first deerhound eventually in 1986. We had a very successful show career with Garth, who became our first Champion. From that time I have not been without one of these wonderful companions.
We bred our first litter from our second Champion, Champion Ardkinglas Krystal. We only breed very infrequently and to continue this wonderful line and over the years have only bred 4 litters with circumstances dictating since our move to Scotland that we do not get to so many shows latterly. However, have been lucky enough in these litters to breed a Reserve Challenge Certificate winner, two Kennel Club Stud Book Qualifiers, Best of Breed winner and a couple of Best Puppy awards, so I don't think I have done too badly based on the quantity.
In January 2010 Evie presented us with a gorgeous litter and these puppies go back to Champion Ardkinglas Krystal and Champion Lorrivale Garth, our first two Champions. Merlin also has to take some responsibility as he is the sire of the puppies.
We live on the west coast of Scotland, overlooking Loch Fyne. Surrounded by wonderful views and interesting wildlife, including Red Squirrel, Red and Roe Deer, and even Pine Martin. This picture shows our house, garden and the loch beyond.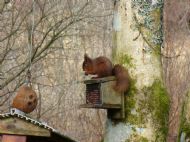 We have numerous birds living in and around our garden most of whom frequent the bird table, Chaffinch, Goldfinch, Blue Great and Coal and Long Tailed Tits, Goldcrest, Wrens, Tree Creepers, Greenfinch, Robin, Siskins, Woodpecker, Jays, Sparrow Hawks. We have also seen Tawny and Barn Owls swooping across the garden.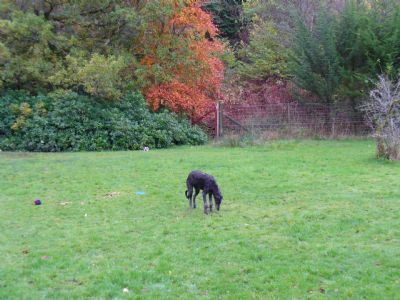 One of the first things we had to do when we moved here was to put up high fencing, the very first night we were sat on packing cases in our new house looking out of the patio window and a Red Deer went marching past. The next day Kerry chased a Roe Deer out of our little wood in the centre of the garden. From that moment, until the fencing was finished they were not let loose.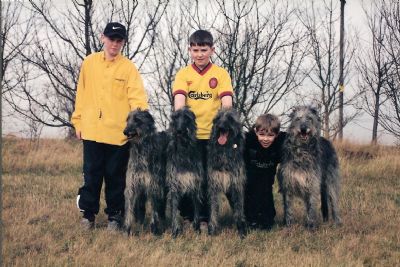 This picture shows Breesfalt Kilkerran, Breesfalt Abergairn, Breesfalt Barntalloch, and Champion Ardkinglas Krystal with Christopher, Connor and a friend.
An evening view across Loch Fyne from our garden. Although the more I look at this the more I wonder if it was the early morning as the sun comes up from behind these hills and it looks distinctly brighter behind them, well can't get everything right!